Feb 18, 2022 05:41 PM Central
Michelle Kempert
#fragrance #departmentstore #highbuck #perfume #wellness #endocrinesystem #youngliving #ingredientsn, aging, antiaging, anxiety, breath, detox, hormonal, menopause, toxin free, woman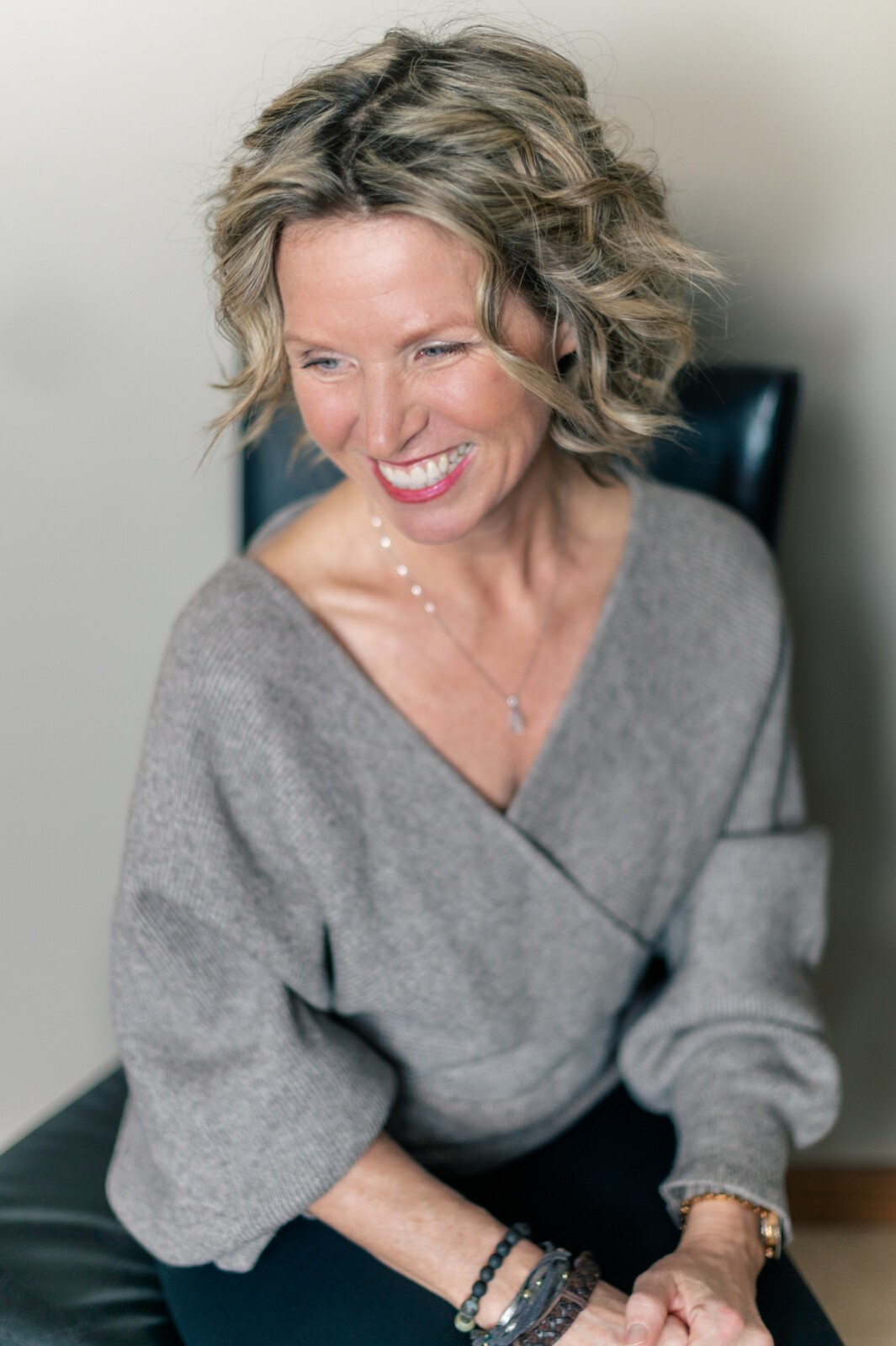 What I love about a quick DIY perfume, air freshener or linen spray is that I get to decide what goes in my home. I mean I am the gatekeeper. Just because the tv commercial or store shelf promotes it does not mean it's good for me. I'm so happy I've learned how to read ingredients, research what they are and make a choice that best suits me and my family. Now that I have become an ingredient snob, we no longer suffer from sinus infections, harsh coughs, headaches, rashes and a host of other things "we thought were normal".
It all started with food first, but that's another chapter. This one is about products. I love that one bottle of plant blood can not only support our health, mind, body, but also do some cleaning, cooking and make other products I no longer have to buy from the store. Like cleaners, perfumes, air fresheners, goo gone, linen sprays, etc.
First and foremost, if your product says the word "fragrance" in the ingredient list, say NO! That one word alone can have a whole host of harsh toxic ingredients in the product. A few words to steer clear from in your products include but not limited to include:
parabens (look for words with methyl, ethyl, butyl)
alcohols
chlorine
aluminum (heavy metal)
phthalates (plastics)
talc
ceteareth-20
PABA
anything synthetic
dyes
and preservatives.
So what do I use in place of some of these ingredients you ask? Great questions...organic vodka, witch hazel, filtered water, seed to seal guaranteed essential oils, medical grade diffusers, and lots of fun bottles and labels! I hope this helps you on your start to choosing toxin free products.
Always reach out to me at livewellwithmichelle@live.com or check out my
clean products
choices I use for my family.
I'd be happy to do a
cabinet consult
with you where I walk you through a cabinet sweep or product swaps.
Living Well,
Michelle
Jun 7, 2021 11:37 AM Central
Michelle Kempert
aging, almost50, antiaging, detox, drybrush, energy, Gracefully aging and living well, lymphatic support, middle age, rejuvenate, skin, wellness, woman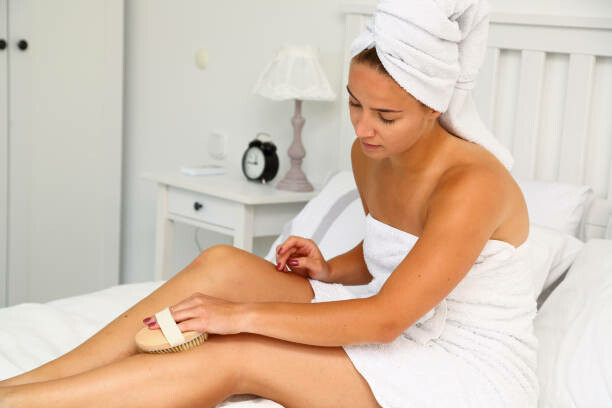 Have you dry brushed? It's been a practice of mine for many years. I love the benefits and how I feel afterwards.
As with anything, consistency is key.
Dry brushing is more known as an Ayurvedic practice. Regardless I believe it is a beautiful, simple health and beauty regime. Benefits of dry brushing include stimulation of lymphatic and circulatory systems, release of toxins, exfoliation of superficial skin cells, rejuvenate and stimulate the body, and relax and soothe skin.
What you need:
A natural fiber dry brush with or without handle. You can find them at many beauty supply stores or beauty departments and are fairly inexpensive at under $10.
What I recommend:
Incorporate 1-3 times a week before shower or bath. Morning or night. Consistency is key!
Start at your feet and work your way up towards the heart. Always flow your dry brush toward the heart for detoxification.
I like to start at my right foot and work all the way up my leg in three's on each section of my leg, then from the waist up to armpit, work across toward heart, then hold an arm up and start at hand working down to arm pit again in three's, and repeat on other side. If your brush has a handle, do your back side or have a loved one do this for you. Again working in three strokes upward toward the head. Always use a very gentle mild pressure, not rubbing.
Next, shower or bath. Afterwards, apply your favorite nourishing body oils. If you have a sluggish lymphatic or circulatory system, I love and recommend
CelLite Magic
massage oils.
Genesis Body Lotion
or my DIY
Glow Skin Serum
which contains the finest oils of CBD, rose, helichrysum, carrot seed, lavender, Frankincense, Valor, Copaiba and more are perfect nourishing products. You can get these essentials here:
https://livewellwithmichelleyl.lifestepseo.com
Avoid dry brushing if you have:
Dry Brushing is a wonderful component to a healthy lifestyle, detox program and after a good work out as well.
I'd love to hear your experiences with dry brushing.
May 19, 2021 05:44 PM Central
Michelle Kempert
almost50, antiaging, balance, boo, covid, detox, digestion, fitness, foot detox, Gracefully aging and living well, hair growth, hormonal, lifestyle, menopause, mineral, optimal, pamper, perimenopause, porch pampering, shedding, side effects, skin, sleep, vaccine, vitality, wellness, woman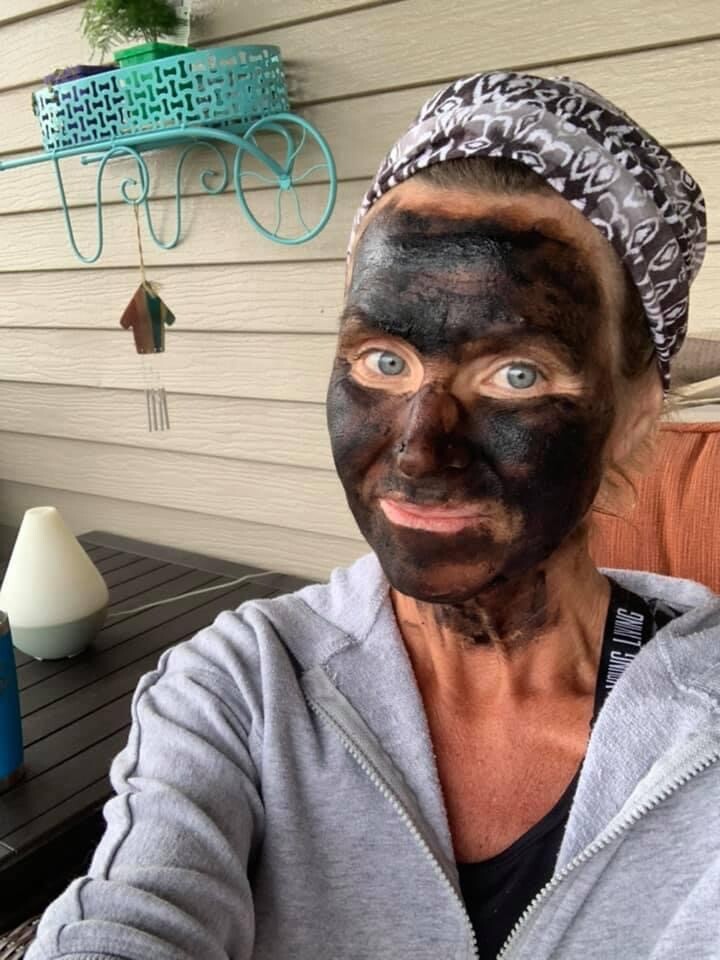 I've been feeling a little sluggish lately so I got out my Foot Detox Bath knowing I have been exposed to a lot crud recently plus it's been a good month since a good foot detox.
So here I am chilling in my back porch pampering, enjoying nature and the soothing of all this. Ahhhh.
My ahhh quickly turned to EWWW immediately when I looked down at my foot bath. What is the world is all that?? Never have I EVER had my water turn this before (see pic) Usually it's a good orange (joints) and black flecks (heavy metals) mixed with a little this and that. But THIS? Oh my whatta detox.
Well, as Shrek would say, better out than in I say to myself!
PS-I know…I was skeptical too until my Accupuncturist had me start doing them and I did my own research as well so I decided to get my own. Want one of your own too? Get it here using my discount code cause I'm all about saving money- that's what friends are for—
https://optimum-detox.kckb.st/livewell
Good thing after all this pampering detox, I received a surge of energy to make dinner and relax the rest of the evening. I would suggest doing the foot detox in the morning and/or evening time. BOO with what works in your day, starting slow and building up. It can have detox effects if the body in deficient.
Check back to see my results as this detox wellness support journey continues!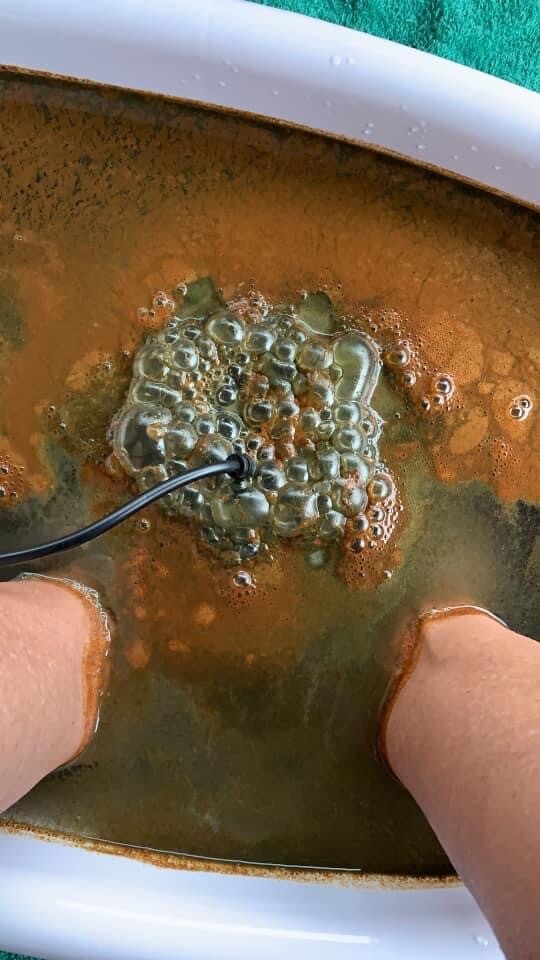 Do you Detox in some way? I'd love to hear from you!