Feb 25, 2022 09:54 AM Central
Michelle Kempert
clean, Cleaner, cleanse, disinfect, DIY, essential oils, Matspray, namaste, smudge, yoga, yoga, yoga mat spray, yogamat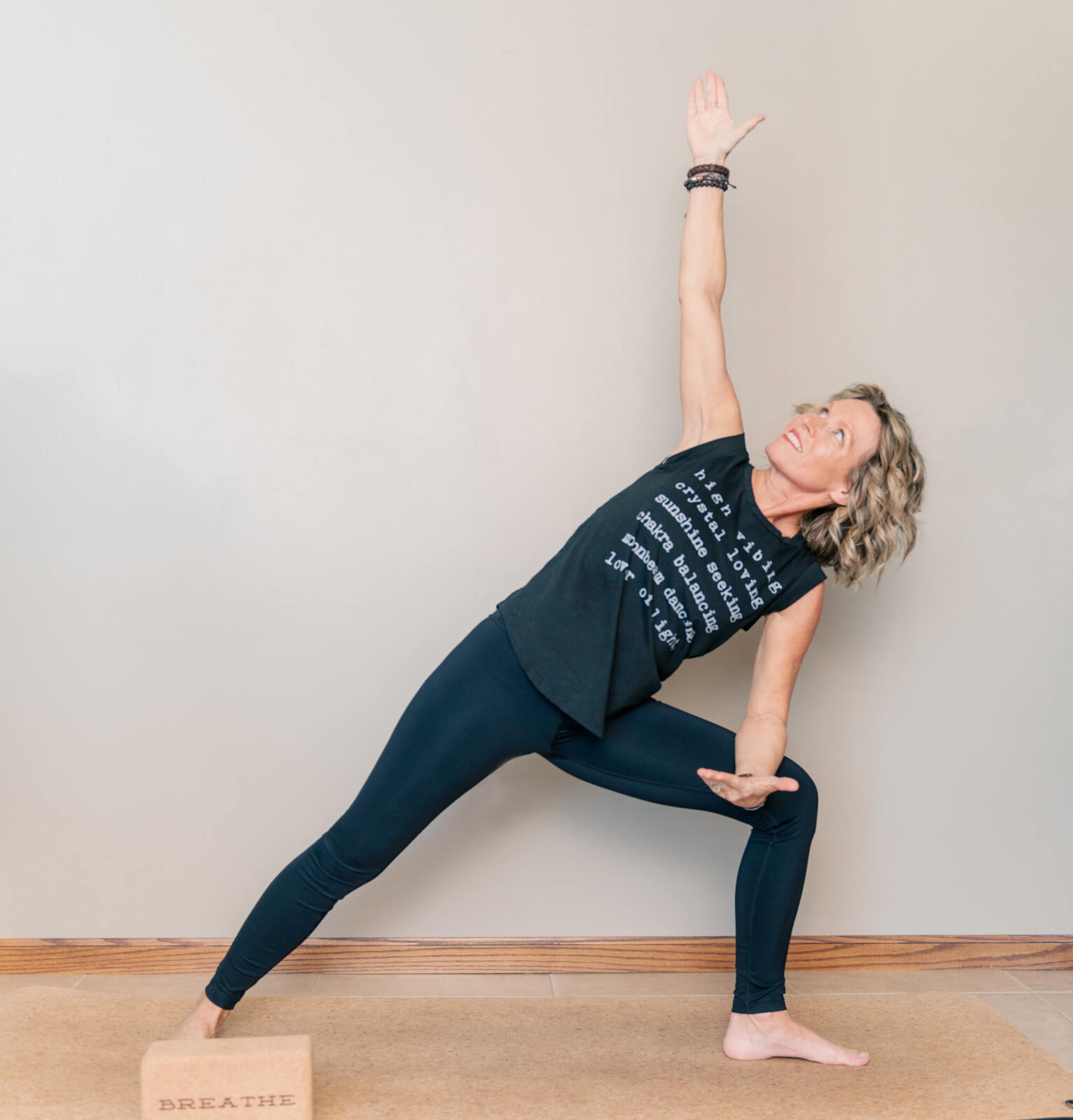 I get asked often how to clean/care for yoga mats. Here are a few of my favorite DIY sprays to care, clean and disinfect your mat. Bonus they smell amazing plus it sets the tone for prepping + sealing your yoga practice with aromatic benefits to cleanse and clear your mind + space.
What you need: Bottle, filtered water, witch hazel (optional), pure quality essential oils, label (optional)
I love and use these bottles for all the DIY things around my home.
First you'll decide on your size.
Essential Oils
Or add amount of drops to your liking and bottle size. This combo is great for disinfecting, gentle on the skin and can be used to spritz yourself after your practice. You could certainly just use a combo of two oils instead of all.
I'd suggest Lemon, Lavender and Tea Tree.
Shop options here
After adding oils to bottle, fill bottle with equal parts Witch Hazel and filtered water. Add cap. Shake and spray. Ahhhh Inhale the beautiful aroma. Wipe yoga mat with gentle cloth. Keep bottle handy in your yoga bag or work out area. If you're outdoors, the combo will assist in pest control too and soothe your skin and tired muscles.
The wonderful thing is that these essential oils will last a long time and go a long way. You can use these bottles of oils for so many other options as well, such as skin support, add to your diffuser, use for cleaning and so much more. Ask me for more info on uses for these oils!
Lightweight, affordable and kills the germs! Bonus--it smells like Christmas
Option 3
My personal favorite is DIY smudge spray. Not only does it have disinfecting qualities it's cleanses / smudges our personal space without having to burn.
DIY Smokeless Smudge Spray
Herbs have played an integral role in many cultures and religions since ancient times. The practice of burning sacred herbs is common in rituals, ceremonies, and meditation practices.
Smudging refers to burning specific dried herbs and allowing the smoke to purify the air. Traditionally, smudging is used to cleanse a space energetically. The intention of this practice is to clear away negative energy while inviting positive energy and clarity in.
Smudge your home using essential oils. You will love this smokeless DIY smudge spray with chosen

Sage, Palo Santo, and Rosemary

essential oils for this recipe. Here's why!
Sage


Sage is widely recognized as the most commonly used herb for smudging. It has been used traditionally for its clarifying properties. Sage essential oil emits a strong, spicy, clarifying, and uplifting aroma when used aromatically.
Palo Santo


Palo Santo is considered a sacred wood to many. Native to South America, the name of this oil can be translated to "holy wood" in Spanish. Palo Santo has a warm, woodsy aroma with subtle mint and citrus notes. Its inspiring fragrance can be used to create a cleansing and refreshing atmosphere. Young Living's Palo Santo essential oil comes from the Finca Botanica Farm in Ecuador.
Rosemary


Rosemary's familiar scent and versatility make it a Young Living favorite. This well-loved botanical is native to Mediterranean regions. Its complex, woodsy aroma can help create an energizing environment and promote a sense of clarity.
DIY Smudge Spray:


• Water
• ¼ cup witch hazel
• 15 drops of each oil: Sage, Palo Santo, and Rosemary
Use a 4 oz.
glass spray bottle or larger
Add essential oils to bottle
add equal
parts
witch hazel + water
Add cap + Shake well
Spray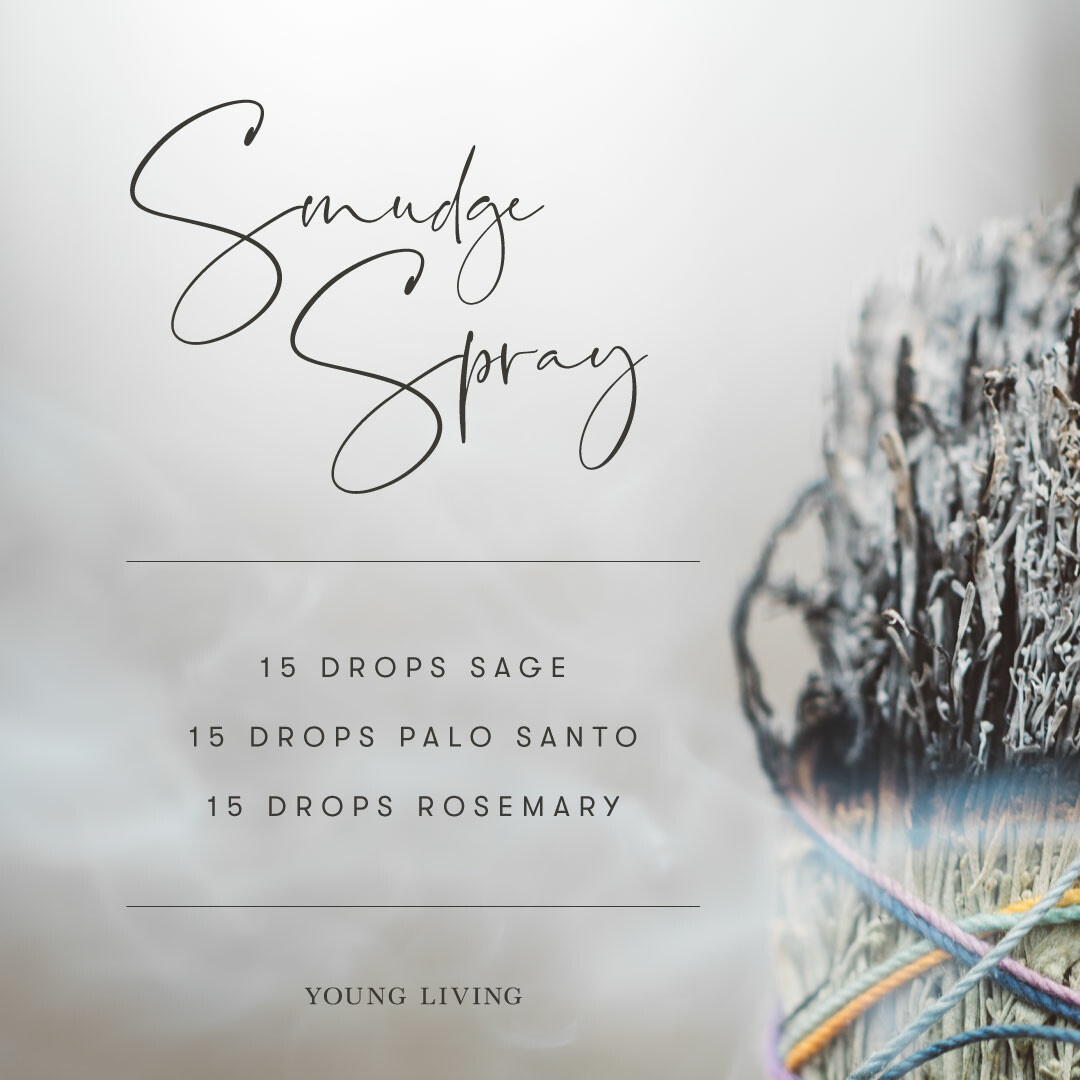 I'd love to hear your chosen
option.
Wishing you Love + Light ✨