Mar 21, 2023 04:09 PM Central
Michelle Kempert
Shed the Dead is my new mantra--I came up with it just this morning while journaling!! Does that ever happen to you? Another round of the Jumpstart has come and here we are already. Is it just me or did we get in a time warp? I feel like since the time change time is zipping by and I'm like waaaaiiiit what is happening. Just me? OK As I said, the last few months have really taken a toll on me and getting back to, well me has been terribly hard. If you have been through any type of trauma, depression or transition you probably know. It's a human experience. Well, this week I've been really learning to give myself grace AND creating short goals for myself and let myself just be guided
instead
of should-coulda-woulda-ing. Today was one of those days where I asked to just be guided. And go along with it.
Somehow
I'm blogging about it....
And so I was guided to Shed the Dead. Huh I thought to myself. So I hopped on my chi machine and wiggled my lymph system. I love my chi machine bytheway! Did a short workout 10 min workout. Slapped on the Charcoal face mask, created an oily hair mask and sat in reflection while doing a foot detox soak with my son, all while inhaling the aroma of my diffusers running with Joy and Orange oils. Then I randomly decided to wax all my leg hair off, body brush and exfoliate, and took a nice long shower. Then clipped my nails, moisturized and oiled my body, fluffed my hair and well here I am!
AHHH Inhale Exhale I'm SO glad I listened to myself today.
Sometimes you just need to take a day to focus on yourself, your body and mind.
May 19, 2021 05:44 PM Central
Michelle Kempert
almost50, antiaging, balance, boo, covid, detox, digestion, fitness, foot detox, Gracefully aging and living well, hair growth, hormonal, lifestyle, menopause, mineral, optimal, pamper, perimenopause, porch pampering, shedding, side effects, skin, sleep, vaccine, vitality, wellness, woman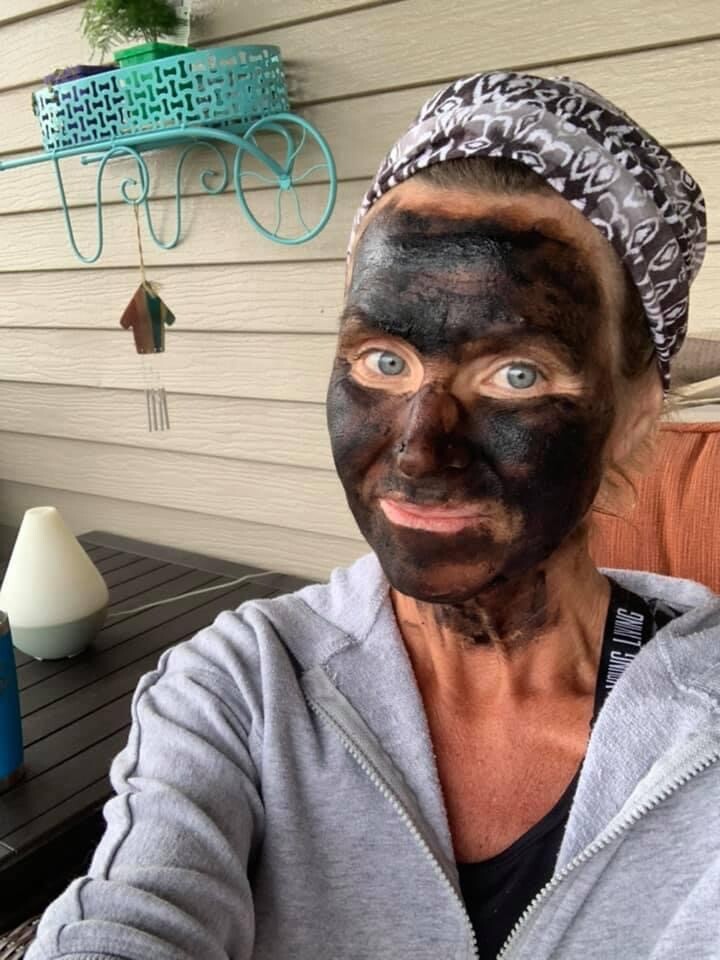 I've been feeling a little sluggish lately so I got out my Foot Detox Bath knowing I have been exposed to a lot crud recently plus it's been a good month since a good foot detox.
So here I am chilling in my back porch pampering, enjoying nature and the soothing of all this. Ahhhh.
My ahhh quickly turned to EWWW immediately when I looked down at my foot bath. What is the world is all that?? Never have I EVER had my water turn this before (see pic) Usually it's a good orange (joints) and black flecks (heavy metals) mixed with a little this and that. But THIS? Oh my whatta detox.
Well, as Shrek would say, better out than in I say to myself!
PS-I know…I was skeptical too until my Accupuncturist had me start doing them and I did my own research as well so I decided to get my own. Want one of your own too? Get it here using my discount code cause I'm all about saving money- that's what friends are for—
https://optimum-detox.kckb.st/livewell
Good thing after all this pampering detox, I received a surge of energy to make dinner and relax the rest of the evening. I would suggest doing the foot detox in the morning and/or evening time. BOO with what works in your day, starting slow and building up. It can have detox effects if the body in deficient.
Check back to see my results as this detox wellness support journey continues!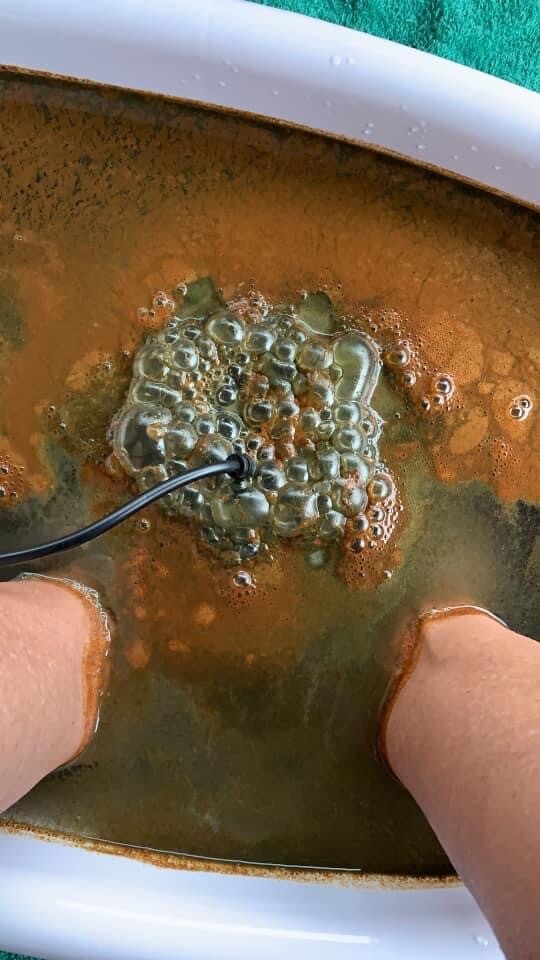 Do you Detox in some way? I'd love to hear from you!