Jun 7, 2021 11:37 AM Central
Michelle Kempert
aging, almost50, antiaging, detox, drybrush, energy, Gracefully aging and living well, lymphatic support, middle age, rejuvenate, skin, wellness, woman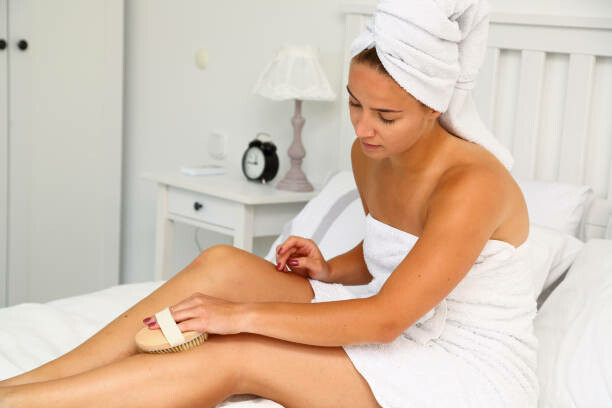 Have you dry brushed? It's been a practice of mine for many years. I love the benefits and how I feel afterwards.
As with anything, consistency is key.
Dry brushing is more known as an Ayurvedic practice. Regardless I believe it is a beautiful, simple health and beauty regime. Benefits of dry brushing include stimulation of lymphatic and circulatory systems, release of toxins, exfoliation of superficial skin cells, rejuvenate and stimulate the body, and relax and soothe skin.
What you need:
A natural fiber dry brush with or without handle. You can find them at many beauty supply stores or beauty departments and are fairly inexpensive at under $10.
What I recommend:
Incorporate 1-3 times a week before shower or bath. Morning or night. Consistency is key!
Start at your feet and work your way up towards the heart. Always flow your dry brush toward the heart for detoxification.
I like to start at my right foot and work all the way up my leg in three's on each section of my leg, then from the waist up to armpit, work across toward heart, then hold an arm up and start at hand working down to arm pit again in three's, and repeat on other side. If your brush has a handle, do your back side or have a loved one do this for you. Again working in three strokes upward toward the head. Always use a very gentle mild pressure, not rubbing.
Next, shower or bath. Afterwards, apply your favorite nourishing body oils. If you have a sluggish lymphatic or circulatory system, I love and recommend
CelLite Magic
massage oils.
Genesis Body Lotion
or my DIY
Glow Skin Serum
which contains the finest oils of CBD, rose, helichrysum, carrot seed, lavender, Frankincense, Valor, Copaiba and more are perfect nourishing products. You can get these essentials here:
https://livewellwithmichelleyl.lifestepseo.com
Avoid dry brushing if you have:
Dry Brushing is a wonderful component to a healthy lifestyle, detox program and after a good work out as well.
I'd love to hear your experiences with dry brushing.