May 19, 2021 05:44 PM Central
Michelle Kempert
almost50, antiaging, balance, boo, covid, detox, digestion, fitness, foot detox, Gracefully aging and living well, hair growth, hormonal, lifestyle, menopause, mineral, optimal, pamper, perimenopause, porch pampering, shedding, side effects, skin, sleep, vaccine, vitality, wellness, woman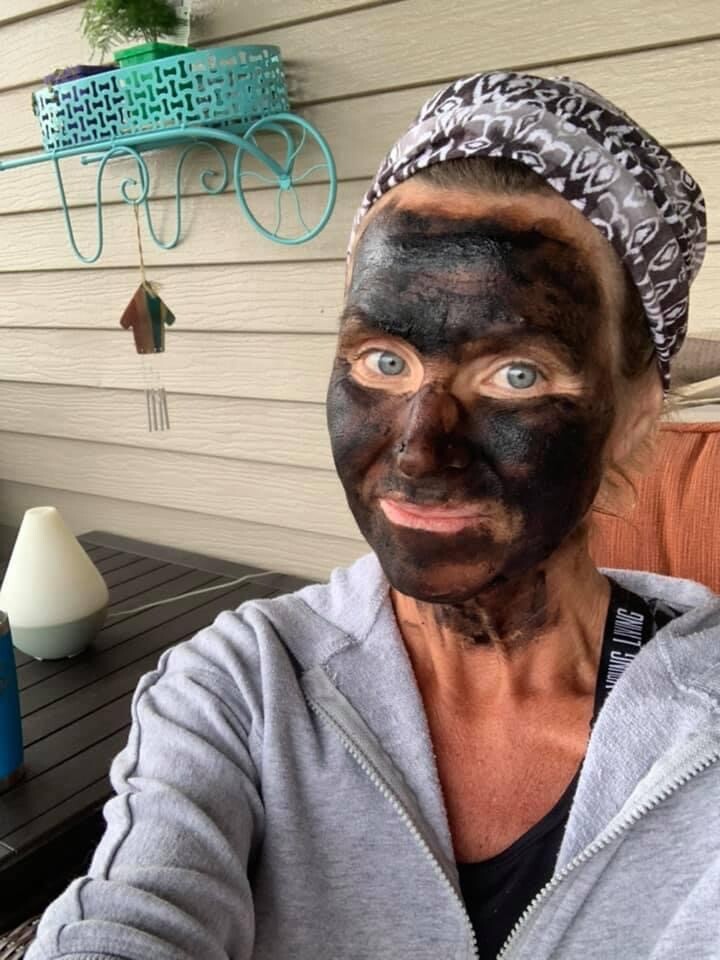 I've been feeling a little sluggish lately so I got out my Foot Detox Bath knowing I have been exposed to a lot crud recently plus it's been a good month since a good foot detox.
So here I am chilling in my back porch pampering, enjoying nature and the soothing of all this. Ahhhh.
My ahhh quickly turned to EWWW immediately when I looked down at my foot bath. What is the world is all that?? Never have I EVER had my water turn this before (see pic) Usually it's a good orange (joints) and black flecks (heavy metals) mixed with a little this and that. But THIS? Oh my whatta detox.
Well, as Shrek would say, better out than in I say to myself!
PS-I know…I was skeptical too until my Accupuncturist had me start doing them and I did my own research as well so I decided to get my own. Want one of your own too? Get it here using my discount code cause I'm all about saving money- that's what friends are for—
https://optimum-detox.kckb.st/livewell
Good thing after all this pampering detox, I received a surge of energy to make dinner and relax the rest of the evening. I would suggest doing the foot detox in the morning and/or evening time. BOO with what works in your day, starting slow and building up. It can have detox effects if the body in deficient.
Check back to see my results as this detox wellness support journey continues!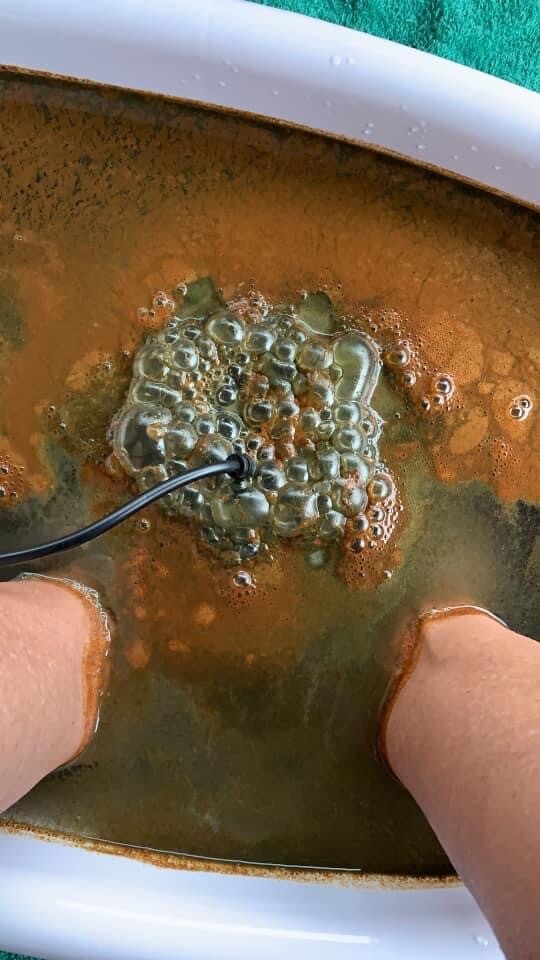 Do you Detox in some way? I'd love to hear from you!
Mar 15, 2021 01:48 PM Central
Michelle Kempert
aging, almost50, celery, celery juice, detox, digestion, energy, hormones, juicer, juicing, morning routine, nutrition, sleep, thyroid, wellness, woman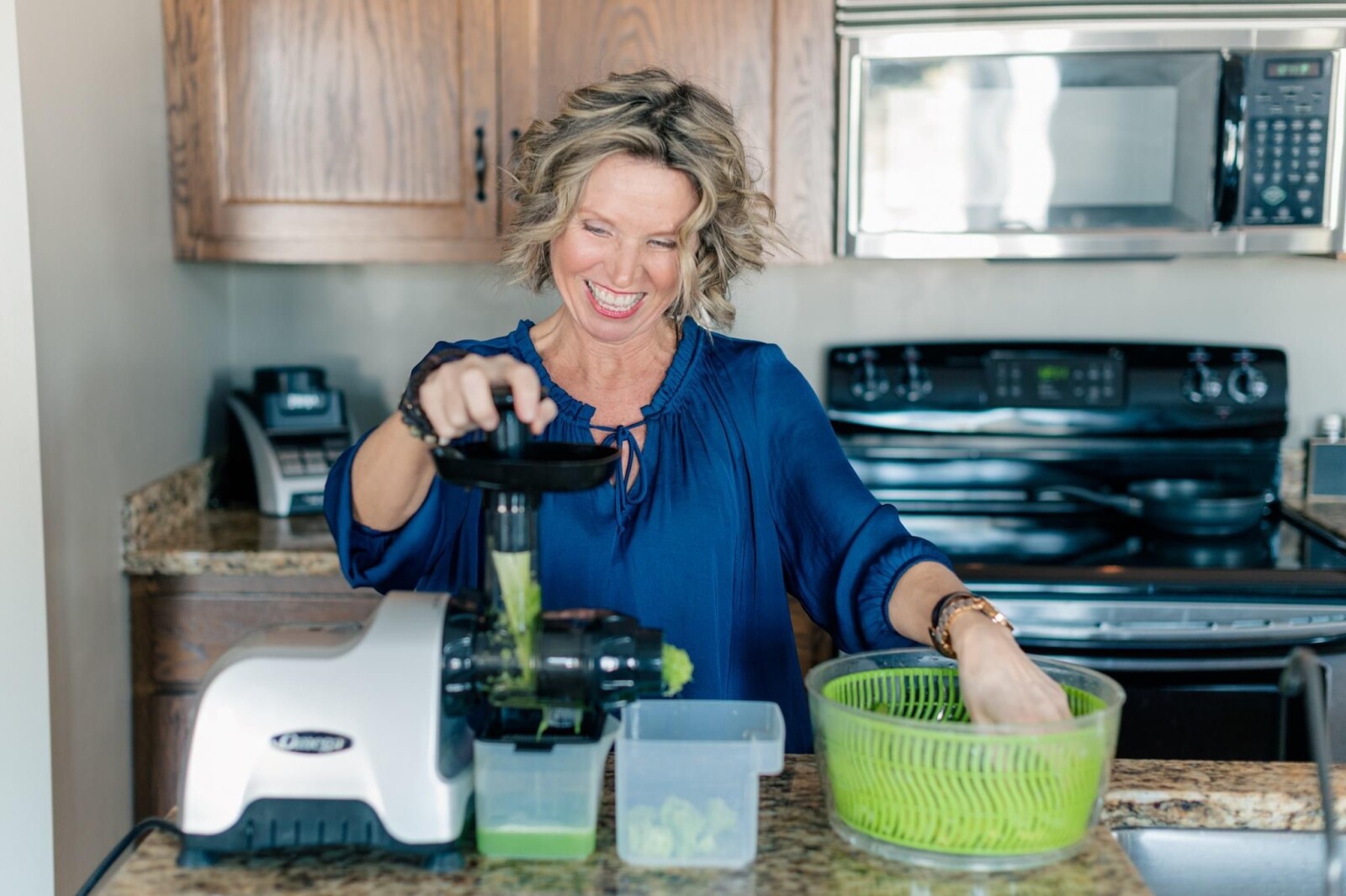 Celery. Juice? I had no idea celery even had juice. I've always enjoyed snacking on celery and dipping it into my almond butter. Even making 'ants on a log' for my kiddos; you know spreading PB topped with raisins. But juice? That intrigued me. My ongoing journey to further support my health from hypothyroidism and hormonal imbalances led me to celery juice. Being a researcher my nature, I stumbled upon Anthony Williams (aka the medical medium), read his some of his books and decided why not try it? I mean celery is good for you, so its juice must be too.
I juice 4-6 stalks a week which last me approximately 4-6 days worth of juice. This will vary individually on how much and how often you choose to drink it as well as the size of the stalks and juicer you use. To juice a few days worth, always use organic celery with a masticating juicer like the one I have here, Omega Juicer so it will be safe to store up to 3-5 days in the refrigerator . This Omega juicer is my newest upgraded version. I love it because it's quite, super affordable, heavy duty, super easy to use, clean and store and keeps all the juice nutrients without oxidation. It also has multiple settings for juicing, sorbet, pasta making, nut butters, and all sorts of other recipe options.
If you're new to juicing like I was three years ago, this affordable juicer is super duper easy to use and clean Hamilton Beach-affordable for the newbie juicer. It was my very first juicer and held up for over a year with daily use for juicing and was easy to use and clean. If you use this one, only make up 1-2 days worth at most for best nutrient benefits.
To start, cut the ends off the stalk, cut stalk in half and be sure to clean/rinse your celery regardless if it's organic (a lot of dirt and pests can be transferred). I love to use my produce spinner for ease
Store celery juice using a large glass jar with air tight cover and refrigerate immediately and pour as needed daily; or use multiple glass jar mugs with covers and simply grab a mug every morning.
For best results, celery juice should be consumed right away in the morning at least one half hour before meals.
Benefits of celery juice for me include extra vitamins and minerals, improved detoxification and elimination, increased energy, better sleep, improved digestion, clear skin, and improved immune system. You may experience looser stools and or more frequent stools early on as did I.
When I initially started, I juiced celery daily for almost a year straight. Now in my third year, I do it in increments skipping weeks/month at a time, typically no longer than a month before I start again. My consistency is about 1-2 weeks per month. I am pretty intuitive with my body and can tell when I need it.
Celery juicing and juicing in general is not a one and done or one size fits all. My research and experience with it has shown that my personal consistency, better nutritional choices, and physical activity is vital for best results. I also consume other juices like beet juice and add smoothies throughout my day for even more nutritional impact.
Do you juice celery or any other kind of juice? I'd love to hear your experiences.
Disclaimer: I am not a doctor. I do not prescribe or diagnose. These words are simply my experience and my protocol for what works best for my body and lifestyle. As always, please consult your health practitioner before beginning.
Disclosure: Affiliate links are provided here which means when you purchase an item from my recommended link, you help support my family.
Don't worry, the price is the same for you either way. Thanks so much for your support and
for stopping by 😊